Browse Games





Game Advice







Developer: Z-Axis

Publisher: Acclaim

Players: 1 - 2

Additions: Force Feedback

ESRB Rating: Mature

Overall Rating: 6.5 / 10



The first action sports video game designed specifically for audiences over the age of 17, BMX XXX is one of the most talked about titles for this holiday season. Combining outrageous Hollywood humor and characters, beautiful women from New York's famous Scores club, incredible arcade action and a dynamic soundtrack from today's top recording artists, BMX XXX will deliver an unparalleled interactive entertainment experience. The version for the PlayStation 2 computer entertainment system has been edited to eliminate the topless nudity, while versions for XBOX and Nintendo GameCube contain both animated and real topless nudity.

Gamers under the age of 17 are not permitted to buy this game without parental consent.




| | |
| --- | --- |
| | Hilarious scripted events written by Hollywood's best comedians. |
| | Mind-blowing mature content will have you belly laughing and coming back for more. |
| | Create-a-Rider lets you make a BMX rider in your own image or you can build a bevy of BMX babes and modify their measurements, your choice. |
| | With the addition of Flatland riding, we now feature over 2000 different tricks. |
| | Challenge your friends with a wide array of split screen multi-player games plus, for the first time: Paint Ball BMX, Strip BMX and more. |
| | Authentic competition levels - compete against other hardcore riders at UGP's Roots Jam 2002 or at the fabled Rampage Skate Park. |
| | 8 massive levels featuring superb game design and all of the freestyle BMX disciplines like park, street, vert, dirt and flatland. |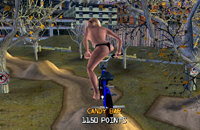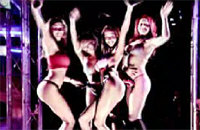 IGN Cube:
"I had fun with some of XXX's over-the-top crudeness. Some of the triggered events are well done and humorous. And indeed if it's just cuss words and nudity you're looking for, you've come to the right place as this game's got both in abundance. But these scripted events survive between..."


6.8


GameSpot:
"BMX XXX is an M-rated game, and it takes advantage of that fact whenever possible. Aside from the dopey, junior-high-school humor, the game swears up a storm in every situation. It also contains female toplessness of the polygonal and real-world variety..."


5.4



Latest movies complements of the finest GameCube site around... cube.ign.com. QuickTime is required to view movies... click here to download movie player.







additional videos available @ cube.ign.com