Browse Games





Game Advice








Developer: Tiburon

Publisher: EA Sports

Players: 1 - 4

Additions: Force Feedback

ESRB Rating: Everyone

Overall Rating: 8.7 / 10



For more than a decade, Madden NFL Football has delivered the most authentic, most realistic football game with unmatched feature sets, and detail, and the dominance continues with Madden NFL 2003. Now, with more depth and polish, faster gameplay, jaw-dropping graphics and animations, realistic player AI, and in-depth play modes, Madden NFL Football remains the undisputed leader in authentic NFL football simulation. The game features faster game speed; players follow through, making hits on people without the ball; tighter control with quicker animations and reduced player momentum; more finely tuned passing game; independent audibles for defensive line, linebackers, and defensive backs

Graphically, the game has improved much over previous versions with all new signature player animations like sidearm QBs, gang-tackling, stand-still receiver catches; new cut scenes with high-poly cheerleaders and additional emotion-based bench scenes; more than 300 realistic player faces; cinematic approach to camera positions gives new, more natural feel. Meanwhile, cinematic camera shots give a more natural look to the game, while new, high-drama replays, improved player faces and eye tracking, and dramatically improved crowds, grass, and lighting makes this a game like no other.

The Monday Night Football team of John Madden and Al Michaels handles commentary, with dynamic play-by-play and more analysis than ever before. New audio engine delivers appropriate commentary based on current game situation and player/team statistics. Greater use of on-field player sounds, including player banter, offensive and defensive audible calls, crushing hits and improved crowd reaction sounds. The new Mini-Camp Mode features John Madden's Cruiser Tour Bus traveling to all NFL cities to complete skilled tasks. Take control of players in practice gear and become an expert in all player positions in your ultimate goal to earn unique cards. You can also receive in game assistance as Madden provides strategy and advice during both offensive and defensive play calling.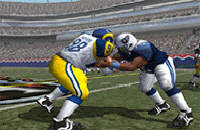 | | |
| --- | --- |
| | This game has not yet been evaluated. When it is, we will outline the positive aspects of this title here. |
| | |
| | This game has not yet been evaluated. When it is, we will outline any negative aspects of this title here. |


IGN Cube:
"I was actually surprised at the number of little enhancements Madden NFL 2003 has over its predecessor. It seems that the overall improvement in this game is greater than the sum of its parts. From the television style presentation to the cheerleader show at halftime..."


8.8


Game Spot:
"There's a lot to like about Madden 2003. You'll undoubtedly enjoy the numerous modes it has to offer, and enough adjustments and changes have been made to the commentary and the gameplay to warrant a purchase even if you have last year's game."


8.6




Latest movies complements of the finest GameCube site around... cube.ign.com. QuickTime is required to view movies... click here to download movie player.







additional videos available @ cube.ign.com