Browse Games





Game Advice







Developer: Midway

Publisher: Midway

Players: 1 - 2

Additions: Force Feedback

ESRB Rating: Mature

Overall Rating: 8.2 / 10



The famed franchise that shocked the world and revolutionized the fighting game category now debuts Mortal Kombat: Deadly Alliance, delivering the highly acclaimed series to the next-generation consoles. Mortal Kombat: Deadly Alliance offers a lethal dose of unparalleled brutality, supernatural mystique and a reinvented fighting system. Beginning the next chapter in the battle of good versus evil, two powerful sorcerers – Shang Tsung and Quan Chi – join forces to deliver unrivaled fighting action in their quest for supreme mortality.

In the game, players engage in hand-to-hand and special-weapon combat, executing secret moves and combinations with new fatalities and deadly body blows. Lethal new warriors are added to the mix along with the return of Mortal Kombat classics - Scorpion, Raiden, Sub-Zero and Sonya Blade. Hyper-realistic, Mortal Kombat: Deadly Alliance features progressive physical damage that allows players to view the inevitable demise of their opponents while utilizing three unique fighting styles for each warrior, creating nearly unlimited fighting possibilities.

In the game, players will also be able to enter the Mortal Kombat: Deadly Alliance "Krypt," which is comprised of more than 600 "koffins" that players can purchase with "kurrency" earned in the game. The "koffins" are filled with new characters, new arenas, alternate costumes, photos and other hidden surprises.




| | |
| --- | --- |
| | Favorite warriors from the past return, including Scorpion, Sub-Zero, Raiden, Sonya Blade and more; new human and supernatural fighters appear, too, each with their own lethal special attacks. |
| | Incredible detail and innovative gameplay made possible by next-generation consoles, takes the series where it has never gone before. |
| | A completely new fighting system delivering intense combat with three unique fighting styles for each character - including hand-to-hand and deadly-weapon combat, combined with progressive physical damage. |
| | Brutal fatalities let players finish off and humiliate their opponents in true MK fashion. |
| | In-depth and engaging storyline continues the mythology and supernatural mystique of the series. |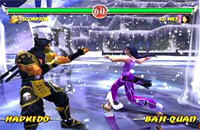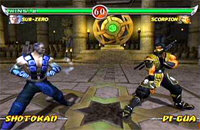 IGN Cube:
"We are a happy office. For the first time in all of IGN's history, we can sit together in unison and say in agreement that we enjoyed the latest MK game. Deadly Alliance is a remarkable achievement in the history of a series we wrote off long ago. Congratulations to anyone lucky enough to pick this one up..."


8.6


Gamers.com:
"A year ago, when Midway released early Deadly Alliance screen shots, no one went especially crazy over the game. But now that we've played the final game, Midway has our attention. MK isn't dead, and Deadly Alliance proves it. It's remarkably fun to play. And if you're having fun, who cares if it has issues?"


8.0


GameSpot:
"It doesn't play much - or at all, for that matter - like other 3D fighters on the market. What you're left with is an unusual fighting game that does a great job of balancing the classic Mortal Kombat style with enough new additions to draw in people who aren't completely familiar with the rest of the series."


8.1




Latest movies complements of the finest GameCube site around... cube.ign.com. QuickTime is required to view movies... click here to download movie player.







additional videos available @ cube.ign.com