Browse Games





Game Advice







Developer: Tiburon

Publisher: EA Sports

Players: 1 - 2

Additions: Force Feedback

ESRB Rating: Everyone

Overall Rating: 8.9 / 10



NCAA Football 2003 returns for another year of legendary rivalries, emotional upsets, and unique college gridiron action. See and feel the difference that separates the pageantry of college football from the pro game. Only EA SPORTS delivers the tradition and spirit of college footballís storied programs, with intense rivalries at 117 Division 1-A and 27 Division 1-AA schools across the country. Control all the action on the field with defensive swats, stiff-arm broken tackles, fake-out moves, and much more. NCAA Football 2003 - itís what college football is all about.

New plays and formations including standing catches, stiff arm, broken tackles, and speed options; new control mechanics; major AI improvements -- enhanced running game, defense pass coverage, and blocking schemes; independent audibles for defensive line, linebackers, and defensive backs; defensive play diagrams. New custom schedules - choose your non-conference and non-traditional games; authentic schedules - neutral-site games and classic match-ups; off-season improvements - coaching strategies like recruiting, cutting; on-field performance affects recruiting success, crowd attendance, and programís prestige.



| | |
| --- | --- |
| | NCAA 2003 owners will be able to unlock special Madden Cards in Madden 2003. |
| | Improved TV commentary with less repetition and more in-game content from the broadcast super team of Kirk Herbstreit, Brad Nessler and Lee Corso. |
| | Earn pennants during game play and unlock secret teams, stadiums, and cheats. |
| | Mascot teams -- play a complete game with one of the 50 mascot teams available; new 2001 All-American Team. |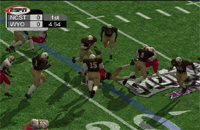 | | |
| --- | --- |
| | This game has not yet been evaluated. When it is, we will outline the positive aspects of this title here. |
| | |
| | This game has not yet been evaluated. When it is, we will outline any negative aspects of this title here. |


IGN Cube:
"Challenging and satisfying is the only way to describe NCAA Football 2003. Sports games in general already have built-in longevity, but with the create-a-school function, trophy case and wonderful Dynasty Mode, NCAA 2003 has set a new standard for value in a videogame..."


8.9


Game Spot:
"EA Sports' NCAA Football 2003 is undeniably a great college football game that should appeal to both the casual college sports fan with its readily accessible rivalry mode and the most hard-core followers of the sport, who will no doubt spend countless hours in the game's dynasty mode..."


8.8


Nintendo Power:
"NCAA looks and plays like the top-notch Madden series, but the college gridiron game surpasses the pro game with a big passion for details. College football has a different feeling than pro bal, and EA has captured much of that. If you're a fan of football - especially college ball - you must buy this game."


8.4




Latest movies complements of the finest GameCube site around... cube.ign.com. QuickTime is required to view movies... click here to download movie player.







additional videos available @ cube.ign.com