Browse Games





Game Advice






Need For Speed: Hot Pursuit 2


Developer: EA Studios

Publisher: Electronic Arts

Players: Unknown

Additions: Force Feedback

ESRB Rating: Everyone

Overall Rating: ?.? / 10



| | | |
| --- | --- | --- |
| Need for Speed (NFS) is back and faster than ever in Need For Speed™ Hot Pursuit 2! Engage in the next generation thrill of arcade racing with the spiritual successor to the highly acclaimed, award winning Need For Speed III Hot Pursuit. Drafting on its award-winning legacy, Need For Speed Hot Pursuit 2 stays true to the heritage of housing a stable of exclusive and exotic cars from the world's most coveted licensors including Ferrari, Porsche and Lamborghini... to name a few. Become the "Champion Road Racer" by conquering numerous racing events, all carrying rewards such as: cars, tracks and high performance upgrades. The game challenges the driver to dodge traffic, police and natural elements in high speed and high style... true NFS style! Evade any cops encountered, as getting busted just might end your career. | | |



| | |
| --- | --- |
| | Be victorious in over 60 different racing events to become the "Champion Road Racer" |
| | Dynamic lighting and real world reflections bring the cars and tracks to life |
| | Realistic, detailed environments bring to life elements from the real world - rain, brush fires, sunbeams and dust storms |
| | Maneuvering exotic super cars through traffic and police at upwards of 160 mph puts you on the edge of your seat |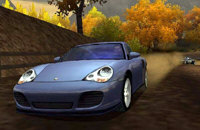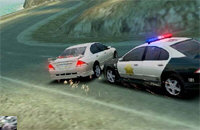 IGN Cube:
"Need for Speed: Hot Pursuit 2 is brings the best of both worlds -- simulation-meets-arcade controls and pure thrill ride, out-of-control racing... And, just in general, I love the dynamics that throwing a chase into the middle of an already intense race produces."


7.3


Gamers.com:
"Sunshine is a thoroughbred classic through and through, and anyone with the slightest inclination will be putting their $50 in the right hands when they pick it up. It has more flair, more variety, and more sheer fun than just about anything else you could play, on any platform..."


?.?


Game Spot:
"The Mario series has almost always been nothing short of incredible. If you've been playing video games for even a few years and have tried to come up with a list of the best games ever made, chances are you placed at least two or three Mario games high on that list..."


?.?



Latest movies complements of the finest GameCube site around... cube.ign.com. QuickTime is required to view movies... click here to download movie player.







additional videos available @ cube.ign.com