Browse Games





Game Advice







Developer: Ubi Soft

Publisher: Ubi Soft

Players: Single

Additions: Force Feedback, GCN/GBA Link

ESRB Rating: Everyone

Overall Rating: 8.3 / 10



When Globox accidentally swallows the Lord of the Dark Lums, Rayman must face the Hoodlums, a bumbling yet deadly army of evil bent on recovering their leader from Globox and overtaking the land. Raymanís only chance? Quest to find a cure for the manic Globox, scour the land for unearthly new powers, and win the allegiance of a fierce warrior tribe known as the Knaaren. Dive into Raymanís bizarre fantasy universe and unleash wicked powers against the Hoodlum Army in this combat-crazy platform adventure! Knock-down, Drag-out, Totally Chaotic Combat Blast into battle with the fanatic Hoodlum Army, hordes of outlandish creatures, and huge transforming bosses.

Wreak Havoc with the Power of Rayman Take the universe by storm with Rayman Ė the only hero with no arms, no legs, and the worldís most styliní helicopter hair. With a blazing arsenal of time-based powers and Double-Fist fighting action, Raymanís ready to rip the Hoodlum Army a new one. Voyage into a Bizarre Cartoon Fantasy Experience Raymanís world and overdose on zany comedy and eye-popping visuals. Explore hyper-stylized environments, interact with deliriously strange characters, and unravel a story of epic proportions.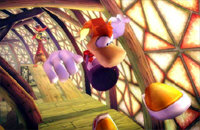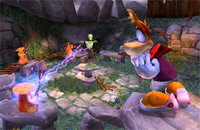 IGN Cube:
"Whether you're a Rayman fan who can't get enough of the limbless wonder, or an action-adventure-platforming gamer who enjoys sarcastic wit, gorgeous graphics, smooth frame rates, and creative character abilities, Hoodlum Havoc is for you. The attention to detail and quality alone presents a polished..."


8.9


Gamers.com:
"Since Rayman 2 was released, some phenomenal platformers have hit the scene from the likes of Nintendo and Sony. And while Rayman 3 is a slight improvement on the limbless wonder's impressive-at-the-time last adventure, it just can't compete with the genre's lofty new benchmarks..."


7.0


GameSpot:
"Rayman 3: Hoodlum Havoc is an excellent 3D platformer and is one of the best to appear on the GameCube. Though the game is rich with extracurricular features, the main quest proves to be a little too short, and the game doesn't provide quite the same level of satisfaction as its predecessor..."


8.1




Latest movies complements of the finest GameCube site around... cube.ign.com. QuickTime is required to view movies... click here to download movie player.




| | |
| --- | --- |
| On the Stairs | coming soon |
| | |
| coming soon | coming soon |
| | |
| coming soon | coming soon |



additional videos available @ cube.ign.com