Browse Games





Game Advice





Sonic Adventure 2: Battle


Developer: Sonic Team

Publisher: Sega

Players: 1 - 2

Additions: Force Feedback, GBA Link

ESRB Rating: Everyone

Overall Rating: 7.0 / 10



Sonic and company are back in Sonic Adventure 2: Battle for Nintendo GameCube. Dr. Eggman is up to his old tricks, and it's up to Sonic, Tails, and Knuckles to stop him yet again. Sonic Adventure 2: Battle features faster action, all-new two-player games, and a branching storyline that lets you choose to save the world as the Hero side, or conquer it as the Dark side. Two new playable characters enter the Sonic universe - a dark hedgehog called Shadow, and a jewel-thieving bat named Rouge.

In the single-player mode, you'll go through more than 30 unique stages, which include everything from a forgotten pyramid, an abandoned military base, and a giant space station. Then there's the expanded two-player mode, which features 12 playable characters competing in new head-to-head games. All of this adds up to Sonic's biggest adventure yet!



| | |
| --- | --- |
| | New two-player "Battle" mode featuring action racing, treasure hunting, shooting, kart racing, Chao racing, and the comical new Chao karate. |
| | 12 playable characters - Six hero and dark characters plus six others from the Sonic series, including Amy Rose, Metal Sonic, and Chaos Zero. |
| | Cable Link with Game Boy Advance for Chao training and mini-games including rock, paper, scissors, and concentration. |
| | Single-player Adventure mode lets you try to save the world as Sonic and friends, or conquer it as Shadow, Rouge, and Dr. Robotnik. |
| | More than action 30 Stages and 150 missions. |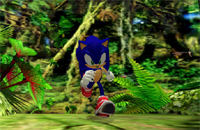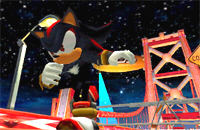 | | |
| --- | --- |
| | This game has not yet been evaluated. When it is, we will outline the positive aspects of this title here. |
| | |
| | This game has not yet been evaluated. When it is, we will outline any negative aspects of this title here. |


IGN Cube:
"While the GameCube port of Sonic Adventure 2 debuted at Space World back in August in early demo form, Sonic Team is back, with a vengeance so to speak. Attendees at this Fall's Tokyo Game Show were given the chance to try out a more complete version of the game under its new moniker..."


6.9


Game Spot:
"Sonic's transition from one dimension to the next has been a rocky one... The tedious collecting and shooting levels are made more frustrating by the game's uncooperative camera, and it's a shame that Sega's latest Sonic game has very little to do with the blue hedgehog..."


6.8


Planet GameCube:
"Sonic Adventure 2 Battle is a spectacular game filled with replay value and bonuses, although its specific additions over Sonic Adventure 2 for the Dreamcast may not be reason enough for everybody to buy it. The multiplayer features are fun, but not that drastic an enhancement."

7.0




Latest movies complements of the finest GameCube site around... cube.ign.com. QuickTime is required to view movies... click here to dowload (movie player is free).







additional videos available @ cube.ign.com