Browse Games





Game Advice







Developer: Acclaim

Publisher: Acclaim

Players: 1 - 4

Additions: Force Feedback

ESRB Rating: Mature

Overall Rating: 7.1 / 10



Developed by Acclaim's world-renowned Austin Studio, Turok: Evolution is a prequel to the blockbuster franchise that has generated more than 6 million units and $250 million in sales worldwide. Featuring an entirely new game engine that was specifically designed for the next-generation gaming systems, Turok: Evolution is an epic adventure of exploration, treachery and war set against a backdrop of lush jungles, mysterious temples and the most realistic and deadly array of dinosaurs ever to be created in a video game.

The story of Turok Evolution takes place in 1886 Texas as the game is a prequel to the first N64 Turok. As the last surviving members of the Saquin Nation make a desperate attempt to escape to the relative safety of Mexico, they are unaware that they have played into the hands of the bloodthirsty Captain Tobias Bruckner. Bruckner orders the slaughter of the remaining Saquin people. As the bullets fly, Tal'Set and the remaining Saquin braves leap into battle, exacting a terrible toll on the Indian Hunters even as they are cut down one by one. Himself mortally wounded by Bruckner in the battle, Tal'Set cuts through the Cavalry troops and embraces Bruckner in a deadly melee. War club and Saber clash, and at the height of the battle, a cave-in sends Tal'Set and Bruckner tumbling into a mysterious underground cavern covered in ancient symbols and strange artifacts.

Exhausted and dying, Tal'Set is brought back from the brink of death by the Mysterious Seer TarKeen. Tal'Set awakens with the memories of his dying people still fresh in his mind. Having been discovered by a group of refugee hunters, Tal'Set is taken to the fortress of the River People where the beautiful Mayana, the leader of the River people, nurses him back to health. Tal'Set embarks on a journey to discover the meaning of his presence in the Lost Land. Tal'Set learns that his presence in the Lost Land is not a coincidence, and that the death of his people was ordained so that he might embrace a higher purpose and become "Turok", the "Son of Stone", protector and savior.



| | |
| --- | --- |
| | Entirely new game engine built from the ground up to take full advantage of the next-generation hardware platforms. |
| | Flight missions enable players to soar through the skies on a fully-armed winged Quetzalcoatlus in air-to-surface, air-to-ground and multiplayer battles. |
| | Ground-breaking Dynamics System offers incredibly realistic enemy and allied squad A.I., enabling troops to take cover, establish strategic positions and surrender. |
| | The most advanced artificial intelligence ever in a FPS; enemies and dinosaurs react instinctively to environmental changes and combat situations. |
| | Lush jungle environments, thriving with vast flora, natural water sources and indigenous life at every turn. |
| | Incredible variety of prehistoric, insect, mammal and oceanic life forms, each with frightening and deadly realism. |
| | More than 30 weapons, including the all-new Gravity Disrupter Beam, Swarm Bore and Baby Nuke, each with unique traits and damage. |
| | Destructible objects and environments: shoot down trees onto enemies and collapse massive rock spires onto dinosaurs. |
| | More than 3,000 sound effects recorded throughout the world, enhancing the realism of the game via Dolby Digital and Dolby Surround Sound. |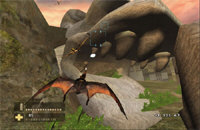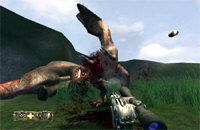 IGN Cube:
"A mix of enjoyment and frustration. At times I was thoroughly amused, sniping enemies and causing mayhem, while at other moments I was frustrated and in a state of pure tedium. I can only recommend that the most hardcore of Turok fans pick the title up. Everyone else will want to stick to a rental..."


6.9


Game Spot:
"If you're a fan of the series, you'll find what you're looking for. The game has the typical drawbacks - it can be a bit difficult or repetitive at times, the enemy AI sometimes exhibits laughable behavior, and the controls suffer from the same awkwardness that plagues most console shooters..."


7.3



Latest movies complements of the finest GameCube site around... cube.ign.com. QuickTime is required to view movies... click here to download movie player.







additional videos available @ cube.ign.com