Browse Games





Game Advice








Developer: Krome Studios

Publisher: Electronic Arts

Players: Single

Additions: Force Feedback

ESRB Rating: Everyone

Overall Rating: 7.2 / 10



TY has always believed that he's the lone remaining Tasmanian Tiger. During a chance meeting with a mystical Bunyip elder, TY discovers that his fellow Tasmanian Tigers are still alive, but trapped in another world called Dreamtime. In order to unlock and open the portal to Dreamtime, TY will go through a series of adventures spread over a wide range of locations and meet an assortment of madcap characters that are inspired by real-life animals indigenous to Australia.

The game features many elements unique to character-based action games including a wide selection of gameplay styles like combat, riding, and puzzles as well as an array of mini-games and boss battles. Players can freely explore and discover each of the expansive Aussie environments while controlling TY who can run, jump, swim and glide. Moreover, players will have fun controlling TY and his arsenal of hi-tech boomerangs, as well as using his fierce "chomping" abilities to take on the many minions of the evil Boss Cass.



| | |
| --- | --- |
| | Explore over 16 levels in the wild and woolly Australian Outback. |
| | Use over 8 different boomerangs including the frostyrang, flamorang, and doomarang |
| | Collect Power-Ups to give TY his Super Chomp |
| | Ride animals, swim around coral reefs, surf down rivers -- whatever it takes to save the Tasmanian Tigers! |
| | Encounter over 50 different characters and enemies |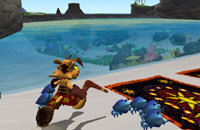 IGN Cube:
"Australia-based developer Krome Studio clearly has some talented artists on its staff, as the entire line of Ty characters is extremely well-conceived and animated. But getting Ty to the top of the favorite platforming mascot list is a feat that this simple Tasmanian tiger can't accomplish in his premiere 3D title..."


6.8


GameSpot:
"The short length is somewhat justified by the game's $39.99 price point and the high quality of the game's content. Ty is great for younger players and can provide a satisfying experience for teens and adults as long as they don't mind their replay value coming from finding every last collectible in the game..."


7.5




Latest movies complements of the finest GameCube site around... cube.ign.com. QuickTime is required to view movies... click here to download movie player.







additional videos available @ cube.ign.com