Browse Games





Game Advice







Developer: NST

Publisher: Nintendo

Players: 1 - 4

Additions: Force Feedback

ESRB Rating: Everyone

Overall Rating: 8.8 / 10



| | | |
| --- | --- | --- |
| From tranquil lagoons to raging tempests, this personal watercraft racer gleams with stunning water and lighting effects. But beautiful aquascapes are only part of the stunning story in this follow-up to the best-selling Wave Race 64. Superb animations, breathtakingly realistic physics and high-scoring stunts of huge ramps will have you shivering with water-soaked thrills. We're told that a wetsuit won't be included with Wave Race Blue Storm. Maybe it should be. | | |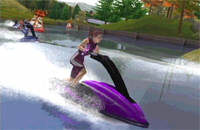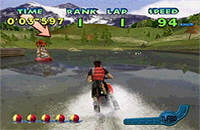 | | |
| --- | --- |
| | Selectable Weather Conditions; Unsurpassed Presentation; Great Variety of Play Modes; Fun Multiplayer Options; Many Codes & Shortcuts |
| | |
| | 1st Generation Graphics; Few Songs & Annoying Announcer; Learning Curve |


IGN Cube:
"It features a total of eight different environments, almost 20 track layouts and five weather conditions apiece. Wave Race Blue Storm has been revealed and it absolutely delivers with realistic physics, beautiful wave reflections, transparencies and animation, and it all plays wonderfully."


9.2


Game Spot:
"Wave Race: Blue Storm is the most accurate video game representation of water-based racing ever to be released. WR:BS is an improvement upon the original in every respect... fans of the original or those who are open to new ideas in racing games should buy with confidence."


8.5


NextGen Magazine:
"Next to Mario 64, Wave Race was the crown jewel of Nintendo's N64 launch lineup. Wave Race: Blue Storm is an undeniable blast to play and the whole package has been given that slick Nintendo polish. The only complaint is that Blue Storm just isn't as ground breaking as its predecessor."


8.0


Nintendojo:
"Blue Storm demonstrated some unbelievable water effects and physics at the show. The Nintendo rep let me know that there will be 11-12 tracks in the game. Only about three of those will be from the original game."


?.?


Planet GameCube:
"The entire Planet staff wants this game and wants it bad. After the spectacular original Wave Race on N64, who can blame us? Fortunately, Nintendo leaked word of a Wave Race game as a launch title early on, much to our delight."

?.?




Latest movies complements of the finest GameCube site around... cube.ign.com. QuickTime is required to view movies... click here to download movie player.







additional videos available @ cube.ign.com