Browse Games





Game Advice






Developer: Intelligent Sys.

Publisher: Nintendo

Players: 1 - 4

Additions: Multilink

ESRB Rating: Everyone

Overall Rating: 9.9 / 10



| | | |
| --- | --- | --- |
| Advance Wars is a deep and complex turn-based strategy game that places an emphasis on tactical intelligence over quick reflexes. In fact, games in the "Wars" series from Nintendo have appeared there on Game Boy and Super Famicom. Advance Wars is the first taste most North American gamers will have of the series, and the game is a virtual smorgasboard for strategy fans of all levels of ability. The story-driven campaign mode takes you through a series of increasingly challenging missions, leading to a showdown with an awesomely powerful enemy army. Even after you've waged multiple wars, the extremely shrewd AI will continually surprise you. Review provided by Nintendo.com | | |



| | |
| --- | --- |
| | Wage multiple wars in story-driven campaign mode. |
| | Strategy room preps you for battle in 114 battle maps. |
| | Single and multi-cartridge multiplayer war game modes. |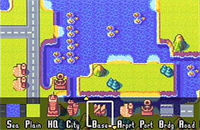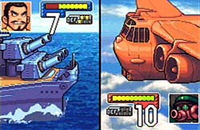 | | |
| --- | --- |
| | 114 Battle Maps, Beautiful Organized Presentation, Addictive Single & Multi-Player Gameplay, Unlimited Mission Content & Replay Value |
| | |
| | Music Slightly Lacking |


IGN Pocket:
"Advance Wars is an absolutely brilliant design, and a title that absolutely deserves a place in your Game Boy Advance collection. It will be amazing to see this series continue in the states, simply because the design is near perfect as it is. What could they possibly do to the game to make it better?"


9.9


Game Spot:
"The one word that comes to mind is "great." Advance Wars is deep and easy to learn, and it contains a level of replay rarely witnessed in handheld gaming. Whether intentional or not, Nintendo and Intelligent Systems have created the consummate handheld strategy sim by which all others will now be measured."


9.1


Planet GameCube:
"The game is insanely deep, has almost unlimited replay value and has over 114 single player maps alone! IS has packed so much into this game it is positively frightening. As you plow deeper and deeper into the game you're continually surprised at the insight that the designers had in creating this masterpiece."

10!



Latest movies complements of the finest GameCube site around... pocket.ign.com. QuickTime is required to view movies... click here to dowload (movie player is free).




| | |
| --- | --- |
| coming soon | coming soon |
| | |
| coming soon | coming soon |
| | |
| coming soon | coming soon |



additional videos available @ pocket.ign.com