Browse Games





Game Advice






Developer: Intelligent Sys.

Publisher: Nintendo

Players: 1 - 4

Additions: Multilink

ESRB Rating: Everyone

Overall Rating: 9.5 / 10



| | | |
| --- | --- | --- |
| Mario, Luigi, Princess Peach, Wario, Yoshi, Donkey Kong, Toad, and Bowser put the pedal to the go-kart metal in 20 all-new tracks, plus many hidden courses in Mario Kart Super Circuit. Each track has its unique challenges, ranging from crabs skittering across Shy Guy Beach to the piranha plants lurking in the quicksand of Yoshi Desert. Grab coins to max out your speed and blast your rivals with the ever-popular arsenal of red, green, and spiked Koopa shells. You'll earn points with every high-place finish, and you'll win trophies with the completion of every four-race cup. Doing well will earn you a high rating and unlock more tracks in Mario Kart Super Circuit. You can compete against as many as four friends (Game Boy Advance Game Link cables required). The game features multiple scrolling planes that move in perspective as you zip through high-speed turns. | | |



| | |
| --- | --- |
| | Over forty unique race tracks including twenty all-knew ones. Each level can be raced in 50, 100, and 150CC difficulty modes. |
| | Playable characters include Bowser, Luigi, Mario, Donkey Kong, Princess Peach, Toad, Wario, and of courseYoshi. |
| | Single and multi-cartridge multiplayer game modes. |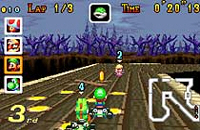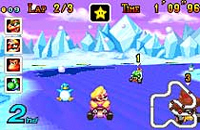 | | |
| --- | --- |
| | 40 Tracks, 8 Characters, Battery Backup, Great Game Audio, Spectacular Graphics |
| | |
| | Slightly Loose Controls |


IGN Cube:
"This title is an awesome Game Boy Advance game that shows off everything the system's capable of, from the single and multiple cartridge, four player link, to the digitized audio, to the hardware's pseudo-3D capabilities. It's a GBA game with very few flaws... and it shouldn't be missed."


9.5


Game Spot:
"Whether you're an ardent fan of the Mario Kart series or a first-time player, Mario Kart Super Circuit is a must-have for owners of the GBA. The end result is a game that not only visually resembles Mario Kart, but also sounds and plays just like one of the most memorable racing games of all time."


8.2


Planet GameCube:
"You buy it. That is all. Mario Kart: Super Circuit is the best game available for the Game Boy Advance. Good night... Super Circuit features the insane amounts of fun that the original did, integrates new advances and ideas into the series, and pulls it all off meticulously. Buy this game. You won't regret it."

10!




Latest movies complements of the finest GameCube site around... pocket.ign.com. QuickTime is required to view movies... click here to dowload (movie player is free).







additional videos available @ pocket.ign.com