Browse Games





Game Advice






Developer: Dimps

Publisher: Sega/THQ

Players: 1 - 4

Additions: Multilink

ESRB Rating: Everyone

Overall Rating: 8.5 / 10



If you've heard of Sega, you've heard of Sonic the Hedgehog. From his debut on the 16-bit Genesis system to his latest 3D incarnation in Sonic Adventure 2, old blue has set the pace for fast-action gaming. Soon, Sonic will speed his way to the small screen in Sonic Advance for the Game Boy Advance system. The game is in development now and the game's features aren't locked down yet, but here's a little taste of the supersonic goodness to come.

Sonic Advance marks the hedgehog's return to the 2D realm, with graphics and gameplay reminiscent of the original Sonic the Hedgehog games. Dr. Eggman is at it again, with a brand new scheme to trip up Sonic and his pals. This time you'll play as Sonic, Tails, Knuckles, and Amy as you collect Chaos Emeralds and thwart Eggman's nefarious machines. You'll need all the help you can get, because this all-new quest gets more challenging by the minute with tons of new puzzles and traps. Evade the obstacles and enemies, unlock secret areas, and uncover the hidden Chaos Emeralds to transform into Super Sonic for the final battle against Dr. Eggman!



| | |
| --- | --- |
| | Connectivity features between Sonic Advance and Sonic Adventure 2 Battle |
| | Four playable characters including Sonic, Tails, Knuckles, and Amy. |
| | Single and multi-cartridge multiplayer war game modes. |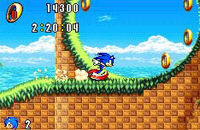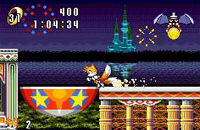 | | |
| --- | --- |
| | 4 Playable Characters, Classic Gameplay, Great Sound Effects, Lasting Multiplayer Appeal, Sharp Graphics |
| | |
| | Music Slightly Lacking |


IGN Pocket:
"Sega's GBA development team pulled out a wonderful handheld title...it covers every possible base on system: it's graphically excellent, it sounds great, it puts the link cable features to outstanding use, and its GameCube connectivity opens up potential never before available."


9.1


Game Spot:
"Veteran Sonic fans should be right at home with Sonic Advance's gameplay... While it lacks some polish, Sonic Advance is still a strong entry in the GBA library. Its connectivity to the GameCube and retro gameplay definitely make it a game that Sonic fans and GC owners can appreciate."


7.9


Planet GameCube:
"Even after over 10 years Sonic is still a pleasure to play, and younger mainstream gamers will finally get a chance to play Sonic old school. It isnít perfect, nor is it the best Sonic game in the franchiseís history, but it is a very solid platformer that deserves a spot in your GBA case."

8.5



Latest movies complements of the finest GameCube site around... pocket.ign.com. QuickTime is required to view movies... click here to dowload (movie player is free).







additional videos available @ pocket.ign.com