Browse Games





Game Advice





Super Mario World: Super Mario Advance 2


Developer: Nintendo

Publisher: Nintendo

Players: 1 - 4

Additions: Multilink

ESRB Rating: Everyone

Overall Rating: 9.5 / 10



| | | |
| --- | --- | --- |
| On vacation in Dinosaur Land, Mario and Luigi get word of Bowser-brewed trouble afoot. With help from Yoshi, the helpful little dinosaur who joins them for the first time, they set out to save Princess Peach from the Koopa King. They'll have their work cut out for them as they travel through nine huge worlds to hunt down Bowser and his evil Koopalings: Wendy O., Iggy, Larry, Ludwig Von, Lemmy, Morton Jr., and Roy. Along the way, Mario and Luigi will ride Yoshi, search for P-Switches, find secret paths, blast fireballs and soar into the skies with the help of the Cape. Their quest won't be easy: Dino Rhino, Chargin' Chuck and a host of unforgettable enemies await in one of the Mario Bros. biggest and most challenging adventures ever! | | |



| | |
| --- | --- |
| | Over forty unique race tracks including twenty all-knew ones. Each level can be raced in 50, 100, and 150CC difficulty modes. |
| | Playable characters include Bowser, Luigi, Mario, Donkey Kong, Princess Peach, Toad, Wario, and of course. |
| | Single and multi-cartridge multiplayer game modes. |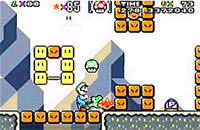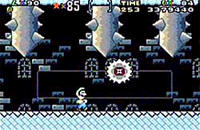 | | |
| --- | --- |
| | 40 Tracks, 8 Characters, Battery Backup, Great Game Audio, Spectacular Graphics |
| | |
| | Slightly Loose Controls |


IGN Cube:
"Super Mario World's level and gameplay design put to use some incredibly innovative ideas for the platformer genre. Nintendo's game designers had a tough act to follow after Super Mario Bros. 3 on the original NES, that's for sure...but the team succeeded with flying colors."


9.3


Game Spot:
"Super Mario World is one of the greatest games ever made. The Game Boy Advance version adds a handful of amenities to cater a little bit more to the portable crowd, but these changes serve only to enhance an already extraordinary game... This is a game that no GBA library should be without."


9.4


Planet GameCube:
"You buy it. That is all. Mario Kart: Super Circuit is the best game available for the Game Boy Advance. Good night... Super Circuit features the insane amounts of fun that the original did, integrates new advances and ideas into the series, and pulls it all off meticulously. Buy this game. You won't regret it."

10!



QuickTime is required to view movies... click here to download (movie player is free).







additional videos available @ gameboy.com