Browse Games





Game Advice






Developer: EA Canada

Publisher: Electronic Arts

Players: 1 - 2

Additions: Force Feedback

ESRB Rating: Everyone

Overall Rating: 8.5 / 10



Explode out of the start gate and launch into the race of your life. Push the boundaries of real physics to dominate the SSX World Circuit. The game SSX Tricky is based on the new extreme sport Boardercross that combines high-speed snowboard racing with insane big air tricks on what is best described as an exaggerated snow covered motocross track, where six boarders leave the gate, but only one is the victor.

Snowboarding on sherbet? Some of the tracks you'll find in SSX Tricky have broken from the traditional cool-blue snow color in favor of tropical snow cones. But this game sports more than just some crazy colors - it also contains a funky soundtrack that enhances the game as you wind around and through icebergs and freeway systems. Choose from a variety of boarders - each with trendy outfits and techno themes - and find your own shortcuts through the expansive tracks. SSX Tricky comes with an adrenaline meter to which you add energy by pulling off little tricks, and from which you tafke energy to perform the big-ticket combos.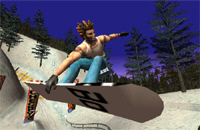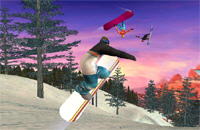 | | |
| --- | --- |
| | Good Variety of Tricks and Levels |
| | |
| | Graphics a Little Lacking, Confusing Control Scheme |


IGN Cube:
"The title, an extreme snowboarder, debuted with the US launch of Sony's next-generation system and it impressed with its style, its scope, its huge air potential, and its unique control scheme and trick system. The GameCube port - a little sloppy at points - is still one of the better freestyle racers available."


7.9


Game Spot:
"SSX Tricky features little to no improvements on the PlayStation 2 version. The gameplay is hectic, the new trick system adds substantial depth, and the overall production is top-notch. If you're looking for a snowboarding game for your GameCube, it's hard to go wrong with SSX Tricky."


8.8


Planet GameCube:
"SSX Tricky for GameCube is an amazing sophomore effort, adding outrageous new boarders, a thumpiní soundtrack, new courses... SSX Tricky is a complete experience, and while not the breakout game that a Smash Bros. may be, it is certainly entertaining, fun, and worth every penny."

9.2




Latest movies complements of the finest GameCube site around... cube.ign.com. QuickTime is required to view movies... click here to download movie player.




| | |
| --- | --- |
| Nice Tricks | coming soon |
| | |
| coming soon | coming soon |
| | |
| coming soon | coming soon |



additional videos available @ cube.ign.com